Valentine's Day Ethical Gift Guide | RE+NEW+ALL Candle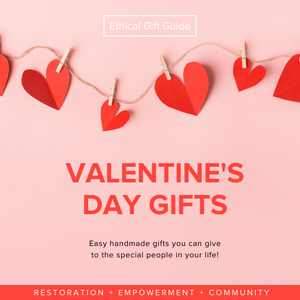 Valentine's Day is the perfect chance to remind the ones you love just how much they mean to you. And although it's not entirely about gifts, giving something thoughtful is an important way to say 'you matter.' Fortunately, your gift does not have to break your bank, as the best gifts are often from the heart.
Instead of choosing the predictable route of flowers and chocolates, we compiled some of our favorite ethical gift ideas to help you choose something different that you can feel good about, too. Whether it is your boss, high school sweetheart, or your mother-in-law-to-be, these creative gifts will show just how much you appreciate the ones you've got.
The Citizenry's Las Artes Pillow is so chic and unique. The best part? Peruvian master artisans have handcrafted the exquisite decorative piece using soft sheep wool. This pillow superbly blends a spectrum of terracotta, blush, and sandstone - neutral enough to fit perfectly into any home.
If you're looking for something warming (in more ways than one!), Ten Thousand Villages polka dot mug is super cute. This versatile is handmade by innovative artisans at the foot of the Himalaya in Kathmandu. Your loved one will be smiling every time they sip their morning coffee.
West Elm's quality furniture and design pieces are often top of the list - and we're loving the fresh spring colors they have right about now. The honeycomb vase is a unique work of art and no two jars are the same. The elegant vases are finished by hand by modern ceramics designer, Courtney Hamill in her Atlanta-based backyard studio. So cool! To glamorize the gorgeous decor further, the gold brings it up a notch. The vases can hold flowers, or act as stand-alone art.


Great gifts come in small packages - and the Chilote House Shoe Slippers are no exception! Made Trade got something right with these fuzzy wonders, which are handmade by experienced female artisans in Patagonia, Chile. Fun idea: place a sweet surprise of sustainable socks inside! 
For anyone who has to brave the cold, this cable-knit hat and scarf set from Boll & Branch may just be too good to be true. This ethical gift is handmade from ultra-smooth yarn and is a magnificent addition to your winter wear.
We saved the best for last, and Pomegranate & Fig gets our number one spot. And rightfully so, candles can brighten up your lover's day. RE+NEW+ALL's Pomegranate & Fig candle is a delightful scent that everyone can love - and an ethical choice, too. This blend of sweet violet, Sicilian bergamot, and, of course, pomegranate and fig will bring relaxation to every home.
Seeing your gifts bringing smiles to the face of a loved one is an extraordinary feeling. However, it can be unnerving finding the perfect Valentine's Day gift. These ethical gifts will help spread the love!
---
Also in Re+New+All Candle News & Stories | Blog