May 2023 Spring Update: Beach Trips and Big Changes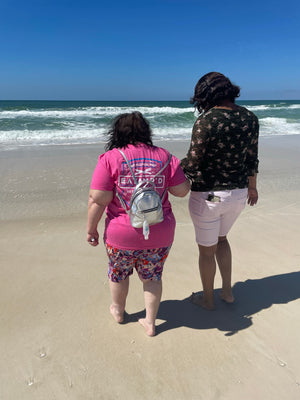 Surprise! It's true; you just got an update from us in April — but this spring season continues to shower us with incredible gifts and opportunities. Plus, one of those opportunities impacts our candle sales over the summer, so we wanted to fill you in as soon as possible. 
We won't keep you waiting; let's dive into all the latest RE + NEW + ALL news! 
A Weekend of Wonder and Healing at the Beach 
While offering therapy to the women of Clare's House, RE + NEW + ALL's Lee Howard discovered several of them had never seen the ocean. Both she and the director of Clare's House wanted to find a way to help them experience the beauty of standing on a beach and looking out into the big, blue sea, so they spread the word among their contacts. 
It took a few months, but in April, their plan fell into place — thanks to generous RE + NEW + ALL and Merge Memphis supporters and donors who made this all-expenses-paid trip possible! 
In a donated van, the group traveled to an oceanfront property (also donated!) in Inlet Beach, Florida. Not only did each woman get a queen-sized bed of her own, but funds were provided for the women to buy beach outfits and eat out each night. 
You can imagine how magical this was for a group of women, between the ages of 50–77, with very few positive life experiences. 
And it was a wonderful opportunity for healing. Because as excited as the women were about the trip, experiencing new things can be scary too. A couple of the women were also afraid of the water. It was an ideal environment for helping them work through those fears, and by the end of the 4-day trip, they were all splashing around in the salt water. 
In fact, one of the women uses a walker. When a lifeguard saw her slowly pushing her walker through the sand, he kindly brought her a beach wheelchair. Within minutes, she was safely seated and enjoying the waves with everyone else.
We also partnered with a local Florida safe house during the trip, BeGenerous. The staff joined us one night for a praise and worship evening and to give the women lots of love, encouragement, and support. 
It was a truly extraordinary adventure. And this trip would not have been possible without the incredible generosity of a wonderful community that continues to pour love into these women on their journey toward wholeness. We are so grateful to you!
Candlemaker Kudos
In our spring newsletter, we shared some heartfelt words about moms, especially those struggling to provide for their kids or who may have had to give up custody. We want to celebrate the moms working hard to be good parents and show up for their kids, even if they don't currently have custody. 
One of those moms is Janie, a former candlemaker who is now in our mentoring program. Janie loves her kids deeply and is working hard to get them back. And we're celebrating with her because she just completed the required parenting class as part of her custody journey! 
This is no small accomplishment. Janie deserves these kudos because this was something she set up on her own. She knew she needed the class and reached out to us to find a place where she could take it. All we sent her was a link, and she ran with it. With no personal transportation, she still got herself signed up and showed up to each class to get her certificate. 
We've seen Janie grow so much over the past two years. Just give her the resources, and she takes the initiative to do whatever needs to be done. She is determined to be there for her kids and be a good mom. This course is a big step, and she's got plenty to be proud of! 
**Survivor named changed to protect identity
A Shift to Subscription-Only Orders for Summer 
Ok, ready for our big news about candle sales over the summer? 
You'll want to get any individual candle orders in by May 25th because we're switching to a subscription-only model for the summer beginning June 1st. 
Don't worry! It's just for the summer. Our goal is to open up individual candle sales again in the fall. 
Why is this happening? The reason behind this temporary shift to subscription-only orders is that some new opportunities have come our way — one of them is the opportunity to expand in another state. 
We're very excited about this new possibility, but to make it work, we have to scale back. The summer months will give us time to adjust and map out a vision of how to move forward in a way that best serves our candlemaker community. 
While we can't share more right now, we promise to fill you in as the details fall into place. In the meantime, please know our candlemakers are still working hard to bring beautiful candles to your doorstep and are so grateful for your ongoing support during this transition. 
So, if you've been thinking about ordering candles for an upcoming graduation, birthday, or as a treat for yourself, be sure to get your order in by May 25th. And if you're not a subscriber yet, consider becoming a Candle Club Member, which will keep you stocked up during the summer. 
And stay tuned because we'll share more news on these exciting changes in the coming months. 
Thank you, as always, for being part of the RE + NEW + ALL community
---
Also in Re+New+All Candle News & Stories | Blog