January Newsletter: Human Trafficking Awareness Month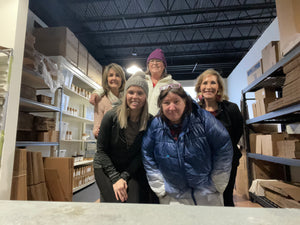 Happy New Year, RE + NEW + ALL family!

We hope you enjoyed a beautiful holiday season and that 2023 is off to a stellar start for you.
We're entering our 4th year of bringing light, joy, and warmth to your home and light, heart, and healing to our candlemakers through our hand-poured candles.
It's because of you that we can continue doing this life-changing work. Thanks to your support,
we're still standing and expanding. And we love sharing these quarterly updates with you so you can see the daily impact you're making in women's lives.
We're kicking off the year with more candlemaker milestones, newly added mental health services for women in need, and some company news (shipping update alert!).
Read on for all the latest!

Human Trafficking Awareness Month

January is Human Trafficking Awareness Month, and today, January 11, is Human Trafficking Awareness Day.

As you know, RE + NEW + ALL began by providing work to trafficking survivors in recovery, providing them with valuable skills, a safe and healing environment, and an income. We've since expanded to include women recovering from substance abuse, domestic violence, and
homelessness. All of these difficulties put women at risk of being trafficked.
Naturally, part of what we do is educate the public about trafficking. That's why it's important to us that we acknowledge the work done to end trafficking in January and all year round.

You can learn about Human Trafficking Awareness Month, how to help, and find links to hotlines
here.

Celebrating and Caring for Our RE + NEW + ALL Artisans

Meanwhile, back in the RE + NEW + ALL studio . . .

While we love making candles, we can do so much more for our candlemakers than simply employ them — all thanks to your support of our mission. There are so many ways you're helping to make a difference, and what you read next are just a few examples.
Last November, one of our artisans finally paid off all her past fines. We'd worked with her months before, helping her create a budget and payment plan. It was a proud day when she could celebrate submitting that final amount.
Over the holidays, two of our volunteers purchased gifts so one of our candlemakers could give her child Christmas this year. While she doesn't currently have custody, it was truly meaningful for her to show up for her child and make the holiday special.
We were also able to give our candlemakers gift cards for Christmas so they could treat themselves. And we just had two big milestone birthday parties: one of our candlemakers turned 50 and another turned 60! Both are ringing in the next decade of their lives with new possibilities on the horizon.
And recently, one of our artisans came to us ready to transition into more full-time work. We helped her look for jobs and fill out applications, and she scored an interview! In fact, she'll be using the Christmas gift card we gave her to buy some new clothes for the job interview.
This is a huge step for her. We're thrilled not just because she has the skills and experience to seek out a new job — but because she now has the confidence and self-belief that she's capable of more. It's beautiful to witness her spreading her wings!
While we've done plenty of celebrating, it's also been a challenging period for some of our candlemakers. Two women currently in our mentoring program are in the midst of child custody
cases, and we are walking alongside and pouring love into them as they navigate this difficult journey to regain custody.
Having a place to go and work as well as receive encouragement and guidance is vital to their mental health. It can be easy to lose hope under these circumstances, and some days are very hard for them. We're so grateful to be a place of light for them right now, which we can only do
because of you!

Offering Mental Health Care to Women in Need

And here's what we're really excited to announce as we head into 2023 . . .

Lee Howard, RE + NEW + ALL's founder, is entering the next phase of her master's degree studies, working toward getting her license in clinical mental health counseling. And through your support of RE + NEW + ALL, we'll now be able to provide affordable mental health care to more women in
need. How?

This year, Lee begins her clinicals, meaning she'll be providing therapy offsite under the supervision of another licensed therapist. Lee will be completing her clinicals through Kardia Collective. She'll be doing this in addition to training and overseeing our candlemakers in our studio. It's going to be a busy year for her!

The current candlemakers in our work program come to us through our partnership with Clare's House, a refuge for women transitioning out of homelessness. We made a special arrangement with Kardia Collective that allows Lee to give the women of Clare's House who are not part of
the RE + NEW + ALL training program access to affordable mental health care with her.

How amazing is that?! We get to continue our mission of renewing lives by creating candles, and we get to give more women in recovery the therapy they may want but couldn't afford otherwise.

Your support allows us to do both. Every candle you purchase keeps our current candlemakers busy and earning an income in the studio, while also giving Lee the flexibility to offer mental health care outside the studio to women in need in the community.

So keep those orders coming — you're helping us offer even more opportunities for healing!
Shipping Update

So we can better incorporate Lee's new clinical hours into our schedule, we'll be streamlining our shipping process. We appreciate your grace and patience with this change. As a small social enterprise and part-time transitional work program, we only have so many hands-on deck during work hours.

All candle shipments will get mailed on Monday of each week, beginning this month. You'll still get your candles promptly, plus you'll know exactly when your order will go out once you've placed it.

Also, if you're one of our candle subscription members, we plan to ship subscriptions out twice each month. Subscriptions that begin or renew before the 15th of each month will be shipped on or just after the 15th. And subscriptions that begin or renew after the 15th will be shipped at the
end of the month.

As always, please reach out to us if you have any questions!
******
Whew! That's a lot of news for the new year, eh? Hopefully, it's left you with a warm glow and a feeling of inspiration. Because your care, encouragement, and kindness definitely inspire us each day. And we hope you know we pour all that appreciation for you back into every candle we make.

Stay tuned for more updates as the year moves along. And thank you for being a light in our community!
---
Also in Re+New+All Candle News & Stories | Blog