Ready To Become A Difference Maker?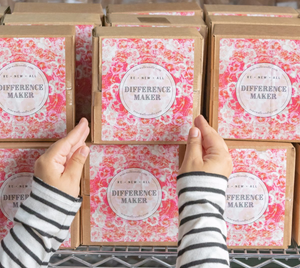 Do you want to be a difference-maker in a woman's life by uplifting her? 
By strengthen her self belief?
With the RE+NEW+ALL Difference Maker Subscription, you can do just that!
The Difference Maker Subscription Candle gives voice to all women in the recovery process, women who look to create a fresh start with their lives, and develop professional skills, here at RE+NEW+ALL Candle. 
Each Difference Maker candle carries an incredible scent and design that is sure to charm you, and anyone you gift it to.
The deep, beautiful aroma will always remind you of the incredible difference you made each time you light it.
This candle not only has amazing scent throw, but is also made in the most natural way possible with soy wax to ensure high quality, and a longer burn time.
Because each candle is made with purpose and infused with love, the Difference Maker candle is perfect for creating a positive difference in the lives of anyone you gift it too.
This is why we put so much effort into our candle production process!
We understand that powerful messages can be delivered through incredible scents, beautiful candles, and you, the Difference Maker.
We thus selected the best oils, cotton wicks, and soy wax possible to create incredible candles that bring an uplifting mood every time someone smells it.
That is our secret! 
So how can you make a difference in a woman's life with this very candle?
It's Simple!
At RE+NEW+ALL Candle, there are many women survivors who come here to start a new chapter in their lives. 
While earning an income, survivors are trained as artisan candle makers, and are taught skills that they need to secure long term future employment.
The Difference Maker Subscription was created not only to make a difference in the life of a survivor, but also to provide other people the opportunity to share this mission by gifting others a candle.
Each Difference Maker candle is hand poured, and signed by the woman who is being rescued and restored with the help of your purchase.
Amazing, right? We think so too!
You can order your Difference Maker Subscription today and begin helping other women, one life at a time!
Shipping is always included with every order. 
Your very first subscription order will be shipped to you within 1 to 3 business days from the initial order. After this, it will be shipped on the 10th of every month.
Remember that you can also end your subscription anytime within a 30-day notice.
Not only are you making a difference in the lives of people you know, but also helping these talented strong women appreciate what they do, and letting their light shine!
Click here to become a Difference Maker
---
Also in Re+New+All Candle News & Stories | Blog