Spring 2022 Newsletter: Let There Be Light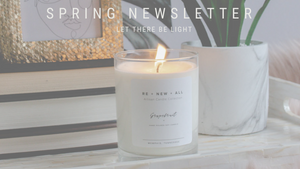 Happy spring to all of you in the RE + NEW + ALL community!  
Are you excited for the longer days, warmer weather, and colorful sights, sounds, and scents of the season? You can't help but love all the promise of light, rebirth, and renewal that spring brings. 
There's been lots of blossoming and blooming behind the scenes here at RE + NEW + ALL too, which has kept us plenty busy and is why it's been so long since we've said, "Hello!" 
And because you're a precious member of the RE + NEW + ALL family, we wanted to let you in on all the latest news so you can share in the joy and progress that you help create with every candle you purchase. 
So, we're bringing some light to your inbox today. Read on for a few short stories of collaboration, celebration, and inspiration! 
New Partnerships with Sista 2 Sista and Thistle & Bee
There are so many incredible organizations in Memphis assisting and supporting women at risk and in recovery. And we're so proud to have recently partnered with two of them: Sista 2 Sista and Thistle & Bee! 
Sista 2 Sista is a safe haven for women currently struggling with trauma and addiction, who often support themselves through prostitution. The organization has a drop-in center offering showers, a hot meal and compassionate community to women not yet ready to enter recovery, and they have crisis housing available for women who are ready to transition into a new life.   
Through our partnership, some of the women staying in Sista 2 Sista's crisis housing are given the opportunity to work at RE + NEW + ALL for a day. Though they don't learn the candle-making process, these women are able to contribute and earn money in a way they've never done before. We've been truly moved witnessing how impactful this experience is for them and the way it opens them up to new possibilities for their lives. 
Thistle & Bee is a social enterprise also bringing healing to women who are breaking free from lives of trafficking, prostitution, and addiction. Their 2-year residential recovery program trains and employs survivors to care for bees and create the honey-based products the company sells to fund their therapeutic and life-renewing mission. 
Celebrating Our Candlemakers
As you know, RE + NEW + ALL is all about community. Even after our candlemakers move on to their next chapter in life, we keep in touch and always enjoy the chance to reconnect with them. Each one continues to succeed and shine brightly! 
In February, we got to visit with our former candlemaker Kelsea, who graduated from her recovery program at A Way Out Ministries last year. We got to take her out to lunch and help her mark her 3-year sobriety milestone. She's continuing her work toward a degree in social work, she's living closer to her family, and…she just got engaged! Yay, Kelsea! 
In March, we treated one of our very first candlemakers, Maria, to breakfast in honor of the 2-year anniversary of her graduation from recovery. She's doing so well at work and in life, enjoying her family and having received not one, not two, but three promotions at her job. Go Maria! 
And three cheers for Sam, our newest candlemaker: We celebrated her birthday in February with lunch, fulfilling her wish to enjoy her very first Chick-fil-A chicken sandwich. Then, she successfully completed her candlemaking internship in March, which means a pay raise and an official role as one of our candlemakers. Woohoo, Sam! 
Become a RE + NEW + ALL Sponsor 
Did you know that the reason we're able to celebrate our candlemakers' birthdays, personal milestones, and work achievements is thanks to the generous support of sponsors? 
Being a social enterprise, we count on candle sales to support the employment of our candlemakers and cover our overhead costs. But, as you know, our mission is much more than simply providing a job. 
We're rebuilding the confidence and self-esteem of survivors. And that means finding ways to show them how worthy they are of love, respect, and dignity so they learn to see themselves in a new light. 
Donations from our sponsors are exclusively set aside to help us offer: 
fun extracurricular activities, like taking our candlemakers out for celebratory meals

a healthy community lunch in the studio on Tuesdays when our candlemakers work a full day

internships for new RE + NEW + ALL trainees or at-risk women from outside programs who come to train with us but may transition elsewhere once their internship is complete
If you're interested in investing even further in the women of RE + NEW + ALL by becoming a sponsor, reach out to us at contact@renewallcandle.com. Though your sponsorship funds aren't tax-deductible (because we're not a nonprofit), your contribution goes a long way toward making a difference in transforming a survivor's life. 
A Note on Our Candle Prices
Lastly, we recognize everyone is being impacted by current events, both personally and financially. We've been working hard to stretch every dollar and keep our prices stable because it brings us such joy to deliver beautiful scents and light to your door. 
However, in order to maintain the standard of excellence we place on the candles we create for you with the high-quality supplies we use, it's become necessary to slightly adjust the cost of our larger candles.
So, beginning May 1st, the price of our 13.5 oz candles will go up just a bit from $38 to $39.99. Our travel candles and Candle Club Subscription prices will remain the same. 
In fact, this could be a great time to consider becoming a Candle Club member. For only $38 each month, you'll receive one 13.5 oz candle and one 4 oz travel candle. Plus, shipping is included in the cost! You'll always have a candle on hand for yourself as well as extras to give away, which helps spread the message of RE + NEW + ALL to others. 
***************************************
Well, that was a lot of spring news to share, eh? We hope it's given you an illuminating and uplifting behind-the-scenes peek at all the work your support helps us accomplish. 
As always, thank you for being part of the RE + NEW + ALL family. Please reach out to us if you have any questions and know we're so grateful for your light in this community!
---
Also in Re+New+All Candle News & Stories | Blog