RE+NEW+ALL Candle Club Subscribers Make the World a Brighter Place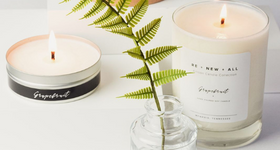 You know that feeling of delight when you light a brand new candle for the first time? The fun of filling your home with a fresh fragrance? The peace you experience from the glow of that tiny, flickering flame?

What if that joy, fun, and bliss could be delivered directly to your door once a month? And what if by bringing the beauty of that light into your life, you'll also be brightening the lives of others in more ways than one?

If that sounds like a package you'd love to unwrap each month, then become a member of the popular RE + NEW + ALL Candle Club! 
What is the RE + NEW + ALL Candle Club?

Our Candle Club is just like subscribing to a magazine, movie streaming service, or meal plan. For the small fee of $38 each month, you'll receive one of our elegant, 13.5 oz, lovingly hand-poured soy candles PLUS one of our 4 oz travel candles.
Within 1-3 business days of subscribing, your first Candle Club kit will be winging its way to your home. Every kit after that will be shipped around the 10th of each month. And guess what? Shipping is always included!

What makes our candles so special and worth the subscription? Each box is packed full of premium-grade candle goodness because RE + NEW + ALL uses only the highest quality all-natural, renewable, and biodegradable ingredients.

Soy wax, which is non-toxic and has zero carcinogens or pollutants, offers a clean burn with very little smoke or black soot. It also has a lower melting point so our candles last longer. And because soy wax is water-soluble, you can easily clean and happily reuse our lovely containers with just a little soap and water.

Oh, and did we mention we're in the process of developing several gorgeous new scents, which you'll have easy, instant access to once they're ready? Hello, first dibs!

But wait, there's more...
Why join the RE + NEW + ALL Candle Club?

There are so many benefits of being a RE + NEW + ALL Candle Club subscriber. The most important one is that you're supporting much more than a small business—you're investing in a mission.

By joining our Candle Club, you're helping us grow and serve more women. Being a monthly Candle Club subscriber is like making a monthly contribution to a favorite cause. Your membership assists us in planning and budgeting as we scale our business. And right now, we've got some big plans taking shape here at our studio!
RE + NEW + ALL began as a bridge to help trafficking survivors develop valuable job skills and build a solid financial foundation as they move from recovery back into real life. However, trafficking is intricately linked to other issues like abuse, addition, and poverty. And any woman struggling in these areas is vulnerable to being trafficked.

So, we're expanding our business model and offering our training and employment options up to women experiencing social and economic disadvantages. Our goal is to not only assist victims in recovery, but reach at-risk women to prevent them from becoming victims. 

We're also developing an in-depth, classroom training curriculum focused on life skills, character and career development, and hands-on work experience. This would also include career counseling as the women transition into full-time jobs.

See, your Candle Club subscription does more than add warmth and light to a room in your home; it lights the path for a woman in transition to a better life. And every 13.5 oz RE + NEW + ALL candle you receive is signed by the woman who made it and is being renewed through your membership.

But wait, there's more! 
How can your Candle Club subscription spread more light?

We designed the Candle Club not only as a way for you to make a difference in the lives of our candlemakers, but as an opportunity to share our mission by brightening the life of a friend, family member, or a complete stranger. How?

Give a candle as a gift. For birthdays, get well wishes, or to simply say, "thank you" or "I'm thinking of you," the gift of a scented candle delights every person who receives it.

Use a candle for a fundraiser. Are you a PTA parent? Raising money for your church group? Or maybe your business is running a contest? Candles make the perfect prize! 

Light a candle to add atmosphere to your place of business or group gathering. The fragrant bouquet of a candle makes anyone feel welcome. It's ideal for a small shop, for realtors showing a home, or a meeting among friends like a book group, bible study, or backyard picnic.

Best of all, with each candle you give away or share with others, you'll be spreading the word and work of RE + NEW + ALL far and wide.

Naturally, you can keep as many candles as you like for yourself, but with a Candle Club subscription you'll always have a candle on hand for any occasion! 
Get in on the Candle Club fun today!

Ready to join the RE + NEW + ALL Candle Club? You'll be in excellent company! Here's what a few of our customers say about being Candle Club members:

"I really LOVE my candles!! They make perfect gifts and I love having them on hand. My family looks forward to receiving them every month!!!" - Shirley G.

"I use them at the counseling office, give them to my mom, and use them at home. I have 2 subscriptions because they smell amazing, but the women and mission alone are worth the subscription price." - Lori T.

"I have enjoyed receiving different fragrances each month with my monthly subscription. I like to give away the small candle that I receive in my subscription. Most of all I am so glad I can help, in some small way - women have a safe place to heal and be restored at RE + NEW + ALL." - Brenda C.

And if you ever feel like you have more candles than you can handle—is that even possible?—you can cancel your subscription with 30 days notice.

Being a Candle Club member means being a Difference Maker. As you bask in the light of a RE + NEW + ALL candle, you'll know you're giving our candlemakers a steady job, a renewed belief in themselves, and the ability to dream of a bright future.

Subscribe to the Candle Club today! 
---
Also in Re+New+All Candle News & Stories | Blog