Autumn News Update: New Partnerships and Milestones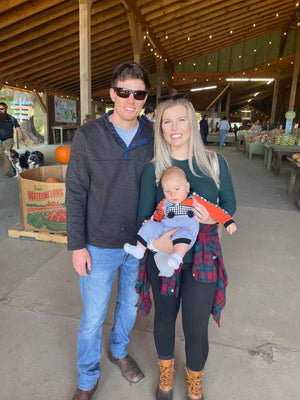 Happy autumn! 
It's time for multicolored leaves, layering clothes, and lattes — the pumpkin spice kind! What do you love most about fall? 
At RE + NEW + ALL, we celebrate the renewal and transformation each season brings to our studio. And we've got lots of fall news to share with you! 
We've got new candlemakers, new partnerships, and even a new fall scent! Keep reading to find out all the latest…
Celebrating New Moms and Milestones
You may recall from our June newsletter that Lee Howard, RE + NEW +ALL's founder, was expecting her first baby. On July 6th, she welcomed her son Neff into the world! Everyone is over the moon about his arrival. And we're very blessed to have some fantastic volunteers looking after him on the days Lee is in the studio working with our candle makers. 
Another new mom is our candlemaker graduate Kelsea! She and her fiancé welcomed their bundle of joy early October, and we helped host a Baby Blessing shower for her in August. It's so exciting to see her continue to blossom in every area of her life. 
And did you hear the sound of party horns on September 2nd? Because that's the day we celebrated our third anniversary! For three years, you've helped light the way for our candlemakers by supporting our social enterprise. What a gift to have touched so many lives and been touched by them — and RE + NEW + ALL's path is still unfolding. 
Welcoming New Candlemakers and Partnerships
As our journey continues, we're so happy to have two new faces joining our candlemaking crew. These new candlemakers come to us through our incredible partnership with Merge Memphis: a local nonprofit providing emergency shelter, housing, and services to women facing homelessness. 
RE + NEW + ALL's training and employment program isn't just for trafficking survivors, but for women who are at risk of being trafficked. And the women Merge Memphis works with are very vulnerable to exploitation. Often these women are trafficked and don't realize or understand they're being exploited. They're simply trying to survive. 
We're so grateful to Merge Memphis for providing the safety and support these women need in a time of crisis. And we're honored to partner with them and walk alongside our new candlemakers on their path to healing and a new life.  
At the same time, we're continuing to grow partnerships outside of Memphis. In August, we visited The Yellow House, a place of refuge, hope, and recovery for survivors in Florida. We discussed a few ways to potentially collaborate and look forward to building on those possibilities. 
Introducing Our New Autumn Scent (Coming in Soon!) 
Meanwhile, a new scent is brewing in our studio! Pumpkin may steal the spotlight every fall, but there's another fruit that goes hand in hand with autumn. It makes for a delicious cider, sometimes you bob for it, and it's also perfect in a pie (a la mode, of course). Can you guess what it might be? 
This fruit is the foundation of our latest scent-sational candle arriving soon. A drum roll, please, for our newest addition: Apple Blossom! 
This cheery candle blends a beautiful mix of fall fragrances into one gorgeous bouquet. It combines the savory, sweet aroma of apple with hints of pear and white amber. With this candle, you'll instantly awaken all those fall season feelings — the crunch of colorful leaves underneath your feet, crisp autumn days in your favorite sweater, and cozy nights by the glow of crackling logs in the fireplace. 
Keep an eye on our store and Instagram page for the announcement of Apple Blossom's arrival! 
Helping Bridge the Gap during Difficult Times 
Lastly, as we've shared in past newsletters, RE + NEW + ALL remains present in the lives of the women who pass through our studio doors. Starting a new life after recovery isn't always smooth sailing. It's vital these women have a community they can turn to when they need help. RE + NEW + ALL will always be there for them. 
When one of our graduates needed supplemental income and seated work she could do as she recovered from an injury, she returned to us. Being in the studio gives her a place to go and people to be with so she isn't coping alone in her apartment. Plus, it eases her financial stress. When she's healed, she'll be able to return to her regular full-time job. 
In August, we connected another former candlemaker with a food pantry and bought her groceries when she hit a rough patch. 
And do you remember the woman and her two boys we mentioned in our last newsletter? This past spring, we helped them with food and managing some court issues. Then, in July, they were in a horrible car accident. Her oldest boy suffered a traumatic brain injury. We've been able to provide critical support during this difficult time, ensuring her youngest is safe and cared for while also helping her create a plan and make decisions as she navigates the road ahead. 
How are we able to do this? Because of YOU! Your ongoing support of our mission enables us to step up and support these women. You're doing so much more than buying an elegant hand-poured candle. You're bringing light to these women and their families and keeping their futures bright. 
If you're interested in doing more than being one of our wonderful candle buyers, you could also think about becoming a sponsor. To learn more about sponsorship, reach out to us at contact@renewallcandle.com. 
As always, thank you for being part of the RE + NEW + ALL family. Please reach out to us if you have any questions. We're so grateful for your light in this community! 
P.S. With baby Neff on board, please be patient if you experience any delays in your order. While we don't anticipate any issues, motherhood is always an adjustment and sometimes causes speed bumps along the way!
---
Also in Re+New+All Candle News & Stories | Blog