Buy a Candle, Feed the Hungry, Support Survivors: How to help RE+NEW+ALL Make an Even Bigger Difference | RE+NEW+ALL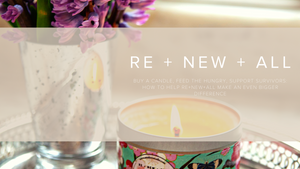 Our Difference Maker candles are taking on an even bigger and brighter role in the RE + NEW + ALL mission! And it's all because of your support for our work.  
As you know, our Difference Maker candles are created to not only make a difference in the lives of women overcoming the trauma of human trafficking, but they're an opportunity to share in our mission and make a difference in the life of a friend, family member, or a complete stranger by gifting them with a candle of their own. 
This past May, we thought we'd use these candles to create an even greater impact in our community. And thanks to the incredible generosity of so many RE + NEW + ALL friends, we were able to donate 130 Difference Maker candles to doctors and nurses in Memphis. Everyone who contributed not only helped our candlemakers stay employed during the COVID-19 crisis, they rallied around and blessed our healthcare workers on the frontlines of the pandemic. 
We were so moved by your outpouring of support for our Healthcare Hero campaign, it inspired us to uncover more ways we could expand our reach and impact more lives here at home. 
Drum roll, please...
We're incredibly excited to announce that for the remainder of 2020 RE + NEW + ALL will partner with a different organization every other month and support the services they provide locally to those in need. We'll be highlighting each of these organizations and helping them fundraise for a specific need through the sale of our Difference Maker candles. 
Each nonprofit we choose for these fundraising campaigns is actively doing work that aligns with RE + NEW + ALL's mission: their services are either helping to prevent trafficking or providing assistance to women who have been trafficked. 
This month, we're kicking off this new series of Difference Maker campaigns by partnering with a wonderful nonprofit called Merge Memphis! 
Merge Memphis provides housing to those facing homelessness, and a number of those vulnerable to sleeping on the streets are women. They recently opened a 24-bed facility and run a food truck called the Empathy Cafe that ensures people in impoverished neighborhoods are fed. 
We're honored to shine a light on and support Merge Memphis because by offering shelter to at-risk women, they help these women avoid being trafficked and forced to sell their bodies on the street in order to keep a roof over their heads. 
Wondering how you can help RE + NEW + ALL support the mission of Merge Memphis? We're glad you asked! 
Throughout the month of July, you'll be able to purchase a special 16oz Difference Maker candle for only $28. The proceeds of every candle sold will be donated toward providing a meal at the Empathy Cafe for someone in need. 
For just $28, you'll get a beautiful, eco-friendly, hand-poured candle while knowing you've given another the gift of a healthy meal at a time when they need it most. 
And a meal at the Empathy Cafe is much more than a simple sandwich and some chips. Your candle purchase will provide a full plate that includes BBQ, two sides, as well as a drink and dinner roll. It's a hot, nutritious, and delicious cooked meal. 
Our goal is to be able to contribute at least 100 meals, but we'd love to exceed that goal if we can. So, to make this Difference Maker fundraiser even more exceptional, we're unveiling a brand new candle in our collection! 
We're launching this fundraising campaign with a gorgeous new scent called our White Tea candle. It perfectly combines the fragrant elements of white tea, cedarwood, vanilla, and hints of jasmine. It's a fresh, clean, and luxurious scent, and we know you'll love it. 
And remember, your purchase helps RE + NEW + ALL continue to employ women who are survivors of human trafficking. Your order ensures these women will be able to continue working and keeps RE + NEW + ALL going strong. 
But that's not all -- if you're local to the Memphis area, you can also sign up be part of our Service Day where we'll be helping serve meals at the cafe! 
Our Difference Maker candles are meant to inspire a movement, and RE + NEW + ALL is dedicated to making a difference throughout the year. We're so proud to be participating in this new venture and finding ways to bring light not just into our homes, but into the lives of others. 
Ready to be a Difference Maker for Merge Memphis? Order your Difference Maker candle today! You'll be filling your home with our delightful, brand new White Tea scent while also filling someone's belly with a delicious meal and letting them know they're cared about. Both are gifts that feed, fill and fuel the soul.
---
Also in Re+New+All Candle News & Stories | Blog