RE+NEW+ALL Gives back: Adopt a Healthcare Hero!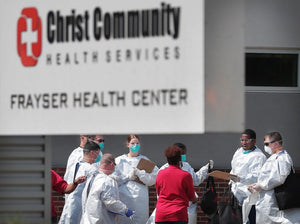 It's a well-known story. When Fred Rogers of "Mister Rogers Neighborhood" was a child, his mother once consoled him when scary things happened in the news by telling him to "look for the helpers." 
In dark times, there are always helpers. They're the people whose job it is to rescue, care for, and provide aid to those in need. Right now, as our country faces a new threat in the form of a virus, these helpers are hard at work saving lives. 
And no one is working harder than our healthcare heroes. They're on the frontlines of this battle against COVID-19, often putting themselves at risk to do the healing work they were called to do. We are so grateful for them. 
At RE + NEW + ALL, we know we can be helpers too. Watching our local doctors and nurses fight valiantly for their patients, we've very proud to announce we've put together a one-of-a-kind sponsorship campaign to offer support and appreciation to Christ Community Health Services! 
Why did we choose Christ Community Health Services? Within their eight locations throughout Memphis, they provide medical services to patients living at or below the federal poverty level. Prior to the COVID-19 outbreak, these healthcare workers were already making personal sacrifices in order to serve those who could not afford adequate healthcare. They do so much to give back to our community year round. In fact, many of the women at RE + NEW + ALL  have been blessed by their services over the years, another reason why they mean so much to us. 
Our goal is to bring warmth and joy to all 252 staff members by gifting each person their own Difference Maker candle. It's our way of giving thanks, giving back, and showing them how important they are. 
We're thrilled to have already received $2,000 in sponsorships, but we'll need lots of additional helpers on board to make this happen -- and that's where you come in! The more sponsors we have, the more staff we can support. Would you like to help us shine the light of love by sponsoring one of these amazing medical professionals? 
Today, we invite you to become one of our sponsors for only $28. 
With your sponsorship, a healthcare worker will receive: 
One 16 oz. Difference Maker Candle
A personalized thank you card and gift bag
You will receive:
One 4 oz. Difference Maker Candle
The option to write a personalized note to a healthcare worker at the clinic with your purchase. 
For just $28, you get to enjoy a beautiful, eco-friendly, hand-poured candle while also knowing you've brightened the lives of caregivers on the frontlines of the COVID-19 crisis.
And remember, by purchasing a candle you're also helping RE + NEW + ALL continue to employ women who are survivors of human trafficking. Our artisan candlemakers have been unable to work this past month due to our city's stay-at-home orders. Plus, retail and small businesses have been hit hard because of the pandemic. Your order ensures these women will have work to return to and keep RE + NEW + ALL going strong! 

We invite everyone to spread the word and join us by sponsoring a healthcare hero during the month of May. You'll be making a truly meaningful difference to those who give so much, not just during this difficult time, but all the time.
*Photo Credit: Jim Weber/DailyMemphian
---
Also in Re+New+All Candle News & Stories | Blog