FRESHEN UP YOUR HOME WITH SUMMER FRAGRANCES - RE+NEW+ALL Candle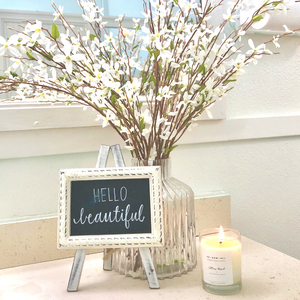 FRESHEN UP YOUR HOME WITH SUMMER FRAGRANCES

There are few things more comforting than lighting a candle and letting its warm, soft scents dance throughout your home. Whether your nose gravitates more towards juicy, tropical grapefruit, the fragrant florals of hibiscus or something in between, research actually shows that candles promote a wealth of calm and relaxation. After experiencing our own hardships this year after a tornado ripped through our headquarters just months ago, to COVID-19 now devastating the entire world, it's the little things that are making us feel most at peace within our homes - and candles are one of them.
That said, we would love to introduce some of our favorite summer fragrances. At a time where money is tight for many, it's important to spend mainly on essentials. But, these little luxuries can promote increased health and wellness benefits, while making your home feel that much more cozy. And, you can feel good knowing that our socially conscious candle company helps survivors of human trafficking by offering them meaningful work in a safe and nurturing environment. We all are looking for our own way to give back, and here's how you can.
A SNAPSHOT OF SUMMER FRAGRANCES

CITRUS BASIL

For us, the smell of citrus automatically symbolizes spring and complemented by cool and collected basil, you'll feel as if you just brought the entire garden indoors. We've also incorporated cucumber and notes of geranium to round off this uber-fresh scent.
LEMONGRASS SANDALWOOD

Take a virtual voyage with our Lemongrass Sandalwood scent that evokes an otherworldly experience within those that love it. Notes include Italian orange zest, Florentine iris, and French daffodils paired with cheerful Bulgarian rose, Mysore sandalwood, and Tonkin rice. Top notes include magnolia, vanilla, and neroli in one exquisite, hand-poured luxury candle.

GRAPEFRUIT
From a fresh squeeze of grapefruit juice in the morning to its combination in an exfoliating scrub, grapefruits provide a sweet and satisfying treat. It's also a treat for your nose when molded into a candle! This yummy candle combines the tartness of grapefruit with the sweetness of apricot and melon for one beautifully balanced scent.
ECO-FRIENDLY USES FOR EMPTY CANDLES
Once you've exceeded our 60+ hour burn time and the candle is finished, we've come up with some innovative, eco-friendly ways to repurpose its holder. Consider it as a beautiful decor piece or summer vase, but our philosophy is to not let any element go to waste if we can help it.
Happy decorating, happy summer!
---
Also in Re+New+All Candle News & Stories | Blog