Developing Leadership Skills And Empowering Survivors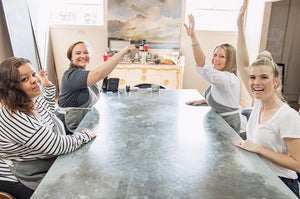 At RE+NEW+ALL Candle, team work makes the dream work!
One thing we love doing in the artisan candle studio each week is coming together as a team. We review our goals for the day and discuss how we are going to achieve them.
Our mission at RE+NEW+ALL Candle is to equip women survivors with the skills they need to secure long term future employment once they graduate from our partner program Citizens For Community Values -- Memphis, TN
When you order a RE + NEW + ALL candle, this is just one of the many opportunities you are giving these women as they learn leadership skills, and become empowered to make a difference in their life and in the lives of others.
We are a social enterprise, not a non-profit. So instead of collecting donations we sell candles to provide jobs for women survivors.This means every candle purchase makes a difference!
Help us continue this movement by ordering your candle today! 
Shipping is always included with your order. 
---
Also in Re+New+All Candle News & Stories | Blog