Celebrate a Life Worth Living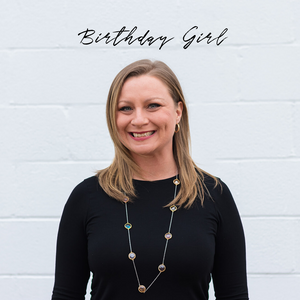 Have you received a candle signed by our artisan candlemaker Leah? Well, today is her birthday, and we're excited to celebrate the amazing person she is and the light she brings into the world every day! 
There are so many things that make Leah special. She brightens any room she walks into with her warm smile, generous soul, and ability to make people feel loved and important. She treats everyone with kindness and is a friend to anyone who needs one. 
Leah is one of RE + NEW + ALL's original candlemakers. In fact, she's been pouring her heart into creating beautiful candles for over a year and a half, before the company was even officially founded. 
And she truly does put her joyful spirit into each candle she makes. Setting the wicks and pouring the hot wax into the candle molds is more than just a job for her. She sees it as a representation of the new life that is being poured into her. With every candle she makes, she hopes each person who lights it will feel the same and know that new life is possible. 
Reflecting on the past year, Leah says she is most proud of staying dedicated to her recovery and her faith. She said, "I have never experienced life this long without being clouded and numb with drugs. I'm very grateful that I have seen God's work come to life in me and that He has strengthened me to be able to go through counseling and stay with my recovery. I am proud of overcoming the obstacle of keeping secrets about my real struggles. I am proud that I am willing to be truthful, which has led me to stay sober. I am proud to say that I am able to trust God and trust others to help me with my struggles as I continue to walk through recovery."
We're all so proud of her too, and so grateful to have her in our lives. Leah's journey to healing and her new life has not been an easy one, but we have witnessed firsthand her determination, persistence, and perseverance. 
What is she looking forward to in the year ahead? Leah says, "Prayerfully, reconciliation with my daughter. I am looking forward to becoming a Proverbs 31 woman and having the opportunity to be able to take care of my family. I am looking forward to establishing a career path in life and education, to being able to experience life through a sober lens. I am looking forward to graduation and seeing what it is like to have a family in the body of Christ and a support system outside of program recovery walls." 
We hope you'll join us in wishing Leah a birthday as beautiful as she is. She deserves to be celebrated, and we know this next year has many blessings in store for her! 
Happy birthday, Leah!!
---
Also in Re+New+All Candle News & Stories | Blog