BREAKING DOWN A MISUNDERSTOOD TOPIC: HUMAN TRAFFICKING IN THE USA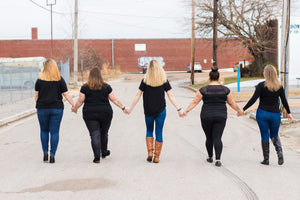 At first mention of human trafficking, we often jump to extremes. With widespread misrepresentation, especially in the media, it is easy to be confused. With increasing prevalence amongst women in the United States, it's important that we break down the facts carefully. Since January is Human Trafficking Awareness Month, we want to break down the topic into manageable tidbits to help you gain a more sophisticated understanding of human trafficking and its impacts on the world we live in.
DIGGING INTO DETAILS

Human trafficking is a global phenomenon that affects millions of people worldwide. The trading and selling of women for reasons like forced labor or slavery have been occurring for thousands of years - and it doesn't appear to be slowing down. 
There are actually many ways that people can be affected, including child trafficking, sex trafficking, forced marriage, and even organ harvesting. Minorities are especially in danger, particularly women, refugees and immigrants, religious minorities and people with disabilities. One of the most significant possible violations of human rights, traffickers are finding new and innovative ways to exploit people - and you would be surprised at the prevalence of trafficking in America alone. 
Our own backyard is actually said to have one of the highest rates of human trafficking in the world, with hundreds of thousands of victims estimated throughout history. While the number of actual victims in the US continues to remain unknown, The Victims of Trafficking and Violence Protection Act of 2000 reports that there are roughly 700,000 victims transported within or across international borders worldwide each year. What is even more alarming to know, is that trafficking does not always involve kidnapping and many victims have actually been trafficked while living in their own homes!
With psychological manipulation being one of the main tactics traffickers use to exploit their victims solving these cases can almost be impossible and sometimes it can take so long, the victim might not even be alive anymore. In a case that a victim does survive, they often do not receive the help they need to overcome this life-altering experience. 
Survivors of human trafficking know all too well that there are vast consequences to the traumas they have endured - and we've witnessed first hand through the women who have come by RE+NEW+ALL Candle. Physical, emotional and sexual abuse is commonplace, and PTSD is widespread. Other common repercussions include anxiety, dissociation, depression and substance abuse. Believe it or not, sometimes survivors get 'marked' by their traffickers and those tattoos are a forever reminder of the suffering they have experienced.
THE RE+NEW+ALL CANDLE IMPACT

At RE+NEW+ALL Candle, each candle is handmade by a woman survivor with all-natural soy wax, premium fragrance oils, and a cotton wick. The most unique element of each product is that each one is signed by the candlemaker herself. We find this personal touch really drives home the impact our products are having on each woman who comes through the doors of Re+NEW+All and allows for our customers to understand the impact their purchase truly makes. 
In our headquarters in Memphis, a group of survivors gather weekly to learn artisanal candle making in our intensive work program. We grant the opportunity to earn an income, build a resume, acquire new skills and begin the journey to self-love in a secure space. Being a social enterprise, we have the opportunity to make a direct impact and encourage others to do the same. 
Every day, we strive to provide a safe and nurturing environment for survivors in the recovery process - and it works. We've noticed that through our program, women rediscover themselves while gaining valuable life skills that make them capable to go from surviving to thriving in life. In addition, our partnership with local non-profit recovery programs like Citizens for Community Values "A Way Out Program" further support and empower survivors, showing that life is worth living.
**SPECIAL OFFER** And in honor of National Human Trafficking Awareness Month, we are offering 30% off your first month of our Difference Maker Monthly Subscription Box. Subscribe today and use the code MAKEADIFFERNCE to take advantage of this limited time offer. A $50 Value. -while supplies last.  
Be sure to
shop
our store today.
---
Also in Re+New+All Candle News & Stories | Blog