A Natural Garden Scent To Feel Full Of Life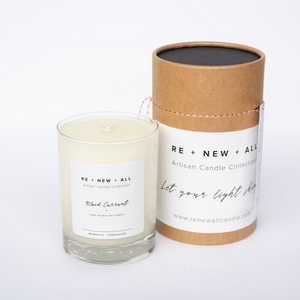 If you're someone who loves the smell of gardens or all things nature has gifted us with, then our Black currant candle will be more than something you love! 
The black currant scent is a complex blend of raspberry, orange, and grapefruit with the added sweetness of the soft peony and ever relaxing aura of lavender.
The earthy sandalwood takes it to a whole new level, and the white patchouli balances out the sweetness for a candle you will love burning for hours.
This magical smell is perfect for those working long hours and desire to feel energetic and full of life.
This candle will give your space just the right amount of natural touch it needs to keep you from missing the outdoors.
Black Currant is perfect for long burn times in the office or while completing any task.
Light this candle, sit back, and relax while doing your work without feeling tension or disturbance.
Use this candle in your home gym or when having guests over to have the garden rich scent lift your mood, allowing you to enjoy any occasion.
If you want to make a difference in the life of someone you love, this candle will work as an amazing gift. Give Black Currant to a loved one and it will continue to remind them of your presence with its beautiful aroma and smell.
This smell will leave anyone and everyone;
Energetic
Happy and uplifted
Relaxed and calm
"These candles not only smell amazing but have a heartfelt and powerful mission behind every single candle." 
Black Currant is one of our bestselling candles and is loved by many. 
Get your Black Currant candle today, and see for yourself why everyone loves it.
All of the RE+NE+ALL candles feature all natural soy wax, and a cotton wick. Each of these candles are hand-poured in Memphis, Tennessee, and signed by the woman being restored by the help of your purchase. 
Know that with every candle purchase, you are making a change in the life of a survivor. It is an amazing and selfless thing to uplift others, and by purchasing these candles, you are helping to re-build the life of a woman, making her proud to let her light shine.
"I love the way these candles smell, but more than that, I love them because they are hopeful to so many." 
Order our Black Currant candle today for yourself, and someone you love. 
Shipping is always included with your order. 
---
Also in Re+New+All Candle News & Stories | Blog