The Best Candle For Warmth & Peacefulness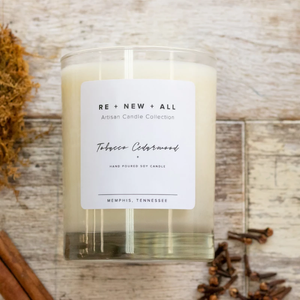 Looking for an all natural, soy candle that induces a great sense of warmth and peacefulness?
If you answered yes, our Tobacco Cedarwood candle could be one of the best-scented candles you have ever come across!
We all know winter is just around the corner, and everyone is preparing, unloading blankets, and changing room decor in time for the new season.
While all those things can make a house look like a home, nothing can bring notes of crisp apples, rosemary, lavender, and white grapefruit quite like our Tobacco Cedarwood scent can. 
Our all natural, Tobacco Cedarwood candle can induce sense of utter relaxation every time you light it and smell the fragrance.
The Tobacco Cedarwood scent is best described as being wrapped around you like a warm and cozy blanket. The smell of this candle is as complex as an afternoon hike along with its unique combo of greengage plum, Sicilian lemon, tuberose, and the familiar comfort of worn leather.
Our Tobacco Cedarwood candle creates a perfect fusion scent for the days of winter and the cold nights, thus helping you feel cozy and warm.
The size of our Tobacco Cedarwood candle makes it easily portable so that you can carry it anywhere you'd like. Be it your office, kitchen, bathroom, porch, or even a gathering to enrich your home's aroma with its incredible, complex scent.
In those long and stressful hours of work, our Tobacco Cederwood candle can be the release you need; you can easily light it to release a scent that will make you feel calm and in high spirits.
This soy candle can also serve as an incredible Christmas gift. Give your loved ones this beautiful candle which will never fail to remind them of you each time they light it. Not only can you give this candle as a present, it can also be given out as a gift to loved ones, as a gesture of goodwill throughout any season.
Did you know that all of the RE+NEW+ALL candles are made with pure, all natural soy wax and cotton wick?
Each candle is individually, and attentively hand-poured in Memphis, Tennessee, and signed by the woman who is being rescued and restored by your purchase.
At RE+NEW+ALL Candle, many women survivors take a start towards a new chapter in their lives. Survivors are trained as artisanal candle makers, and taught skills they need for securing long term future employment.
Remember, your purchase changes lives! 
You can shop the Tobacco Cedarwood candle here
Shipping is always included with every order. 
---
Also in Re+New+All Candle News & Stories | Blog