Best Candle For A Chilly Fall Morning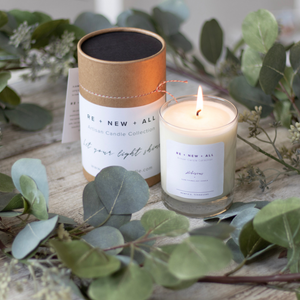 Hibiscus is a chilly fall morning with bright, citrusy notes bolstered by a touch of fragrant florals and hints of cozy sandalwood.
The combination of bitter orange with a touch of lavender, lemongrass, and hydrangea is wonderfully rounded out by herbal sage and hints of timber wood.
This hand made, soy wax candle will pair perfectly with a cup of hot tea and a warm bath.
RE + NEW + ALL artisan candles feature natural soy wax and a cotton wick.
Each artisan candle is hand-poured in Memphis, Tennessee, and signed by the woman who is being rescued and restored by your purchase.
Every time you add a RE + NEW + ALL candle to your home or give one to someone you love, you are giving the gift of restoration to women survivors of human trafficking.⁠
We are a social enterprise, not a non-profit. So instead of collecting donations we sell candles to provide jobs for women survivors.This means every candle purchase makes a difference!
Order your Hibiscus artisan candle today. 
---
Also in Re+New+All Candle News & Stories | Blog