A Tornado Can't Keep Us Down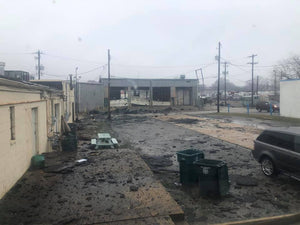 Recently, the location where our RE+NEW+ALL Candle's operations and manufacturing take place in Memphis, TN was severely damaged by a tornado that no one could have expected. 
Though this was an unforeseen shock to our entire team and has caused some setbacks in our 2020 plans, we are beyond blessed by the incredible supporters like you that have rallied around us. 
We are so thankful to our customers and followers that have sent encouraging words and prayers to our team, allowing are our artisans to see and feel apart of a supportive community during this hard time.
Our fans have been nothing short of AMAZING! 
Some have promoted our candles to friends & family to help keep our artisans working.
Others have even reached out to volunteer their precious time, offering to clean up the damage left from this tornado, helping us protect our surviving inventory. 
WHAT'S NEXT? 
Unfortunately, due to the significant damage that our building has taken, we are currently having to relocate so that we can continue furthering our mission and supplying you with all of your candle needs. 
Prior to the storm, we were approached by the lead pastor of Memphis Tabernacle who offered to bless us with our own studio space, but the studio space was in need of repairs. 
With the intention of raising support throughout the spring to complete the needed renovations, our plans have now had to change due to the tornado. 
While we are still processing through our next steps and ways to fund the new building renovations sooner rather than later, we are continuing to ship out our inventory so that our artisans can continue to work while we transition into our next home.
You can still purchase your favorite scents here.
We continue to ask for your prayers and support during this time as we re-located and re-build our operations. 
Thank you for showing RE+NEW+ALL Candle and our artisans your love! 
---
Also in Re+New+All Candle News & Stories | Blog